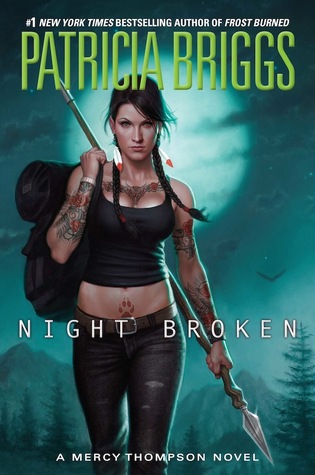 Review:
Mid-west Book Review called Patricia Briggs a natural-born storyteller, and I couldn't agree more. This is especially true in this book – I didn't care for the vast majority of the story. I didn't care about the issues with Christy (whose obvious manipulation seemed cheap and, for me, not believable), which takes up too much of the book. But I still loved reading it. Patricia Briggs has a special way of spinning a tale. She's one of the few authors who makes me forget my surroundings completely. Usually when I'm reading, I have one ear to the ground (so to speak). I think that's a survival instinct I developed from missing too many train stops when I was younger. But these books still manage to override that, and that's pretty cool.
So even though I only really liked the bits with Coyote, some of the Guayota and the minor plot with the fae (I'll always love fae), I still enjoyed this book while I was reading it. Thumbs up.
Night Broken by Patricia Briggs
Mercy Thompson #8
Book Length: 341 pages
Time to Read: About a week at half an hour to an hour a day.
Paranormal Drama/Action/Adventure.
Adult Fiction.
According to the Blurb on the Back:
Mercy Thompson's life is never simple.
Her mate Adam's ex-wife is in trouble, on the run from her new boyfriend. Adam won't turn Christy away when she's in need, but Mercy can't shake the feeling that something isn't right.
Soon, Mercy learns that Christy has the furthest thing from good intentions. She wants Adam back and will do anything to get him, including turning Adam's pack against Mercy.
Meanwhile, there's an even more dangerous threat circling. Christy's ex is more than a bad man – in fact, he may not be human at all. As the bodies pile up, Mercy finds herself facing a creature with the power to tear her world apart.