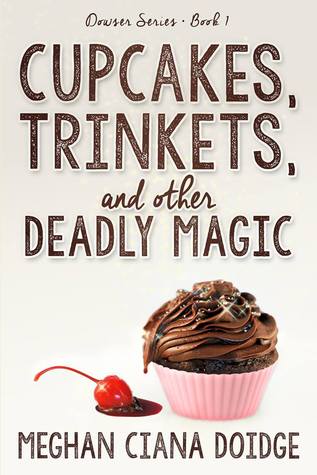 Review:
Well, thank goodness for that. I've had such a bad run of paranormal novels lately I was beginning to lose faith in the genre. But never fear! Cupcakes are here!
Okay, let's be serious now. Jade is a great main character, I loved her connection to her family and her cooking, and the story! It had everything I wanted! Magic, vampires, werewolves & werecats, murder mysteries with black magic vs good magic and lost inheritances and it was all just so FUN! I had forgotten how much fun this stuff could be 🙂
Maybe I could see the twist a little too early, but its one of those twists that's okay to see coming – in fact, it makes sense for Jade to be in dark while the reader figures it out, and the reader could also pick up on little behind-the-scenes nods that indicated yes, other characters knew it too and were making moves to rectify the matter. I hope that's enough to explain it without giving it away. It was a good twist that made a seriously enjoyable novel turn into something really emotional too.
People, this book is free. It is more than worth what it's asking. I had a rollickingly good time with this, and I'm so relieved to have a new series to sink my teeth into.
MdD
Cupcakes, Trinkets, and Other Deadly Magic
Dowser #1
Book Length: 68 000 words
Paranormal Mystery-Romance-Drama Mix. Don't you love how indie books fit everywhere and nowhere?
Adult Fiction.
According to the Blurb on the Back:
If you'd asked me a week ago, I would have told you that the best cupcakes were dark chocolate with chocolate cream cheese icing, that dancing in a crowd of magic wielders — the Adept — was better than sex, and that my life was peaceful and uneventful. Just the way I liked it.
That's what twenty-three years in the magical backwater of Vancouver will get you — a completely skewed sense of reality. Because when the dead werewolves started showing up, it all unraveled … except for the cupcake part. That's a universal truth.