I reviewed Hopebreaker with Masquerade Book Tours. Visit the other blogs on the tour!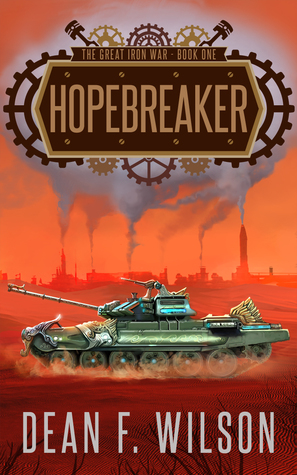 Review:
Steampunk! I don't read it nearly as often as I should, mostly because I found a couple of pretentious books that tainted my view of the genre. Not this one! Hopebreaker made me think of a 'western-style' steampunk (I think it's the deserts), but it's so much more than that – a great blend of otherworldly fantasy comes into this tale that I think will appeal to lovers of demons and more urban-fantasy types. This could be a great book to introduce the steampunk genre to my friends.
Our main character is a smuggler with a reluctant conscious, who gets thrown in gaol with the golden-boy of the resistance. The world-building is done very well, explained in drips and drabs to provide enough context for the current situation without getting bogged down. I didn't quite get the relationship between Jacob and Tabera, but that's okay because neither did Jacob. Maybe there could've been more development of the secondary characters, but I see this first book as 'setting it up' while telling a ripping good yarn.
In essence, Hopebreaker is fun. I really enjoyed the overarching plot of the resistance and the tank-fighting scenes. The action and chase scenes were well paced within the story and the pseudo-engineering made it that much more enjoyable. The world of Altadas fascinated me and I'm looking forward to finding out more about it.
I received this book in exchange for an honest review.
Like my review? Like it on Goodreads too!
Hopebreaker, by Dean F. Wilson
The Great Iron War #1
Book Length: 220 pages
Steampunk Adventure (Adult Fiction)
According to the Blurb:
In the world of Altadas, there are no more human births. The Regime is replacing the unborn with demons, while the Resistance is trying to destroy a drug called Hope that the demons need to survive.
Between these two warring factions lies Jacob, a man who profits from smuggling contraceptive amulets into the city of Blackout. He cares little about the Great Iron War, but a chance capture, and an even more accidental rescue, embroils him in a plot to starve the Regime from power.
When Hope is an enemy, Jacob finds it harder than he thought to remain indifferent. When the Resistance opts to field its experimental landship, the Hopebreaker, the world may find that one victory does not win a war.